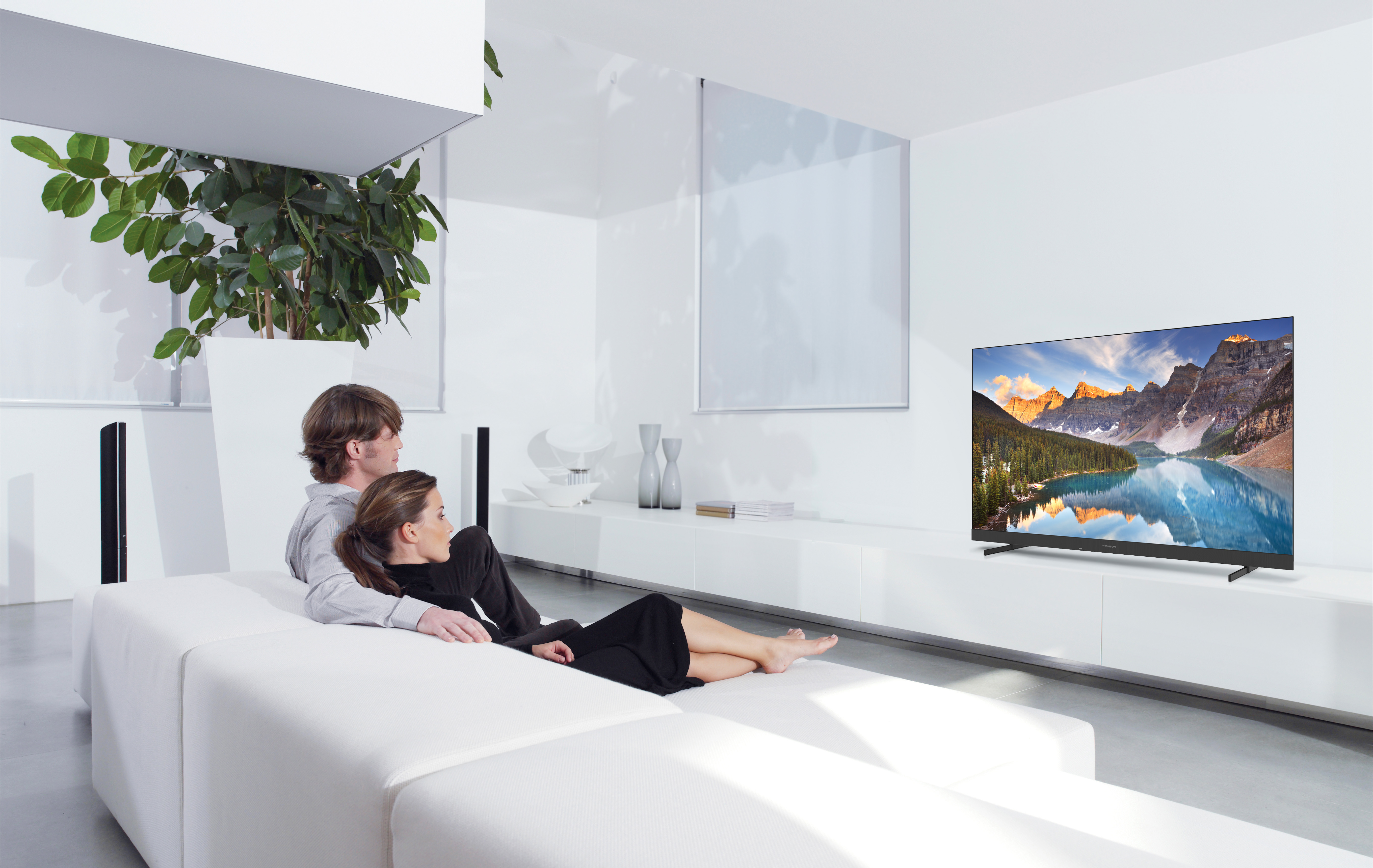 Guide to ideal TV size and optimal viewing distance
Are you looking for a new TV and want to optimize your viewing experience? Do all these different sizes and screen resolutions confuse you? You're not the only one! Indeed, it is hard to decide which TV is the best one for your room. But we have good news. Here's a guide to help you choose the right TV for you and answer all the questions you may have.
Choosing the correct size in a few simple steps
A first step in choosing a new TV is to find out what the best viewing distance is. There are some factors that you need to consider as for instance the size of the room, the use of the TV, and its resolution. However, the size of the room will mostly determine how big the TV should be. And, there's an easy formula that can help you choose the optimal TV size.
If you're considering purchasing a Full HD TV, then what you need to know is that the minimum recommended distance between the screen and the viewer should be about 2.6 times the size of the TV diagonal, in centimeters. When it comes to Ultra HD screens, the minimum recommended distance is reduced to 1.3 times, which means that in this case you can go for a TV twice the size. Keep in mind that usually the screen diagonal of TVs is listed in inches. You can easily convert them to centimeters by multiplying inches by 2.54.
As an example, let's assume that your living room has a maximum viewing distance of 150 cm, and you want to purchase a Full HD model. Then, the maximum size would be 150 / 2.6 = 58 cm, which is about 23 inches. If you prefer, an Ultra HD screen, then the TV could be up to 46 inches.
Extra tips:
You could choose a slightly bigger TV if you mount it on the wall.
Whether you place your TV on a table or on the wall, try to position it at eye level or lower to avoid eye or neck muscle fatigue.
Ultra HD enables bigger TV sizes
The screen resolution is also an important factor which affects how far you can place the TV from your viewing point. After a specific point your eyes will start noticing the individual pixels of the screen and the picture will begin to degrade, depending on your visual acuity. On the other hand, the further away you get from the screen, the less details you will see. Therefore, there's a recommended distance that you must sit from the screen if you want to see all the detail of your screen.
In case you're planning to upgrade your viewing experience, nowadays it's very common to choose an Ultra HD instead of a Full HD. Higher resolution TVs have smaller pixels, which are harder to see at the same distance. This simply means that your experience becomes more immersive as your viewing point can be closer to an Ultra HD screen than a Full HD, without you noticing the pixels. What's more, thanks to the more advanced technology the images are more beautiful and clearer. At the same time, the perfect calibration of the screens in terms of contrast, brightness, and image, allows you to enjoy a cinematic experience without harming your eyes.
Who said that big TVs are only for large spaces?
The idea that larger TVs are only for those with spacious living rooms is outdated. Ultra HD screens now give everyone who wants to enjoy a magnificent viewing experience the opportunity to do so! Immerse yourself in your favorite movie or video game and enjoy the perks of a larger screen. It's true that when installing a new big TV in the home, it can seem strangely big comparing to the old one. But it's certain that you'll soon get used to it and never want to go back to a smaller size.
Have you already checked out our Thomson Ultra HD range? The sizes of the TVs start at 43 inches and go up to 85 inches. We're sure you'll find the right TV to suit your needs!